Edison Lecture
Detection and Visualization of Human Sex Trafficking in Online Escort Ads
Catalina Vajiac, Carnegie Mellon University
3:30 p.m., April 13, 2023 | 138 DeBartolo Hall
Human trafficking (HT) for forced sexual exploitation is incredibly pervasive, affecting an estimated 6.3 million people at any given time. The majority of victims are advertised online, mainly through online escort websites. Practitioners who want to help these victims often manually scroll these websites to find leads, which is time-consuming and ineffective, particularly for finding larger organized crime groups. By analyzing these ads, we can enable those practitioners to more quickly find possibly suspicious organized crime groups, so they can provide victims with the help that they need.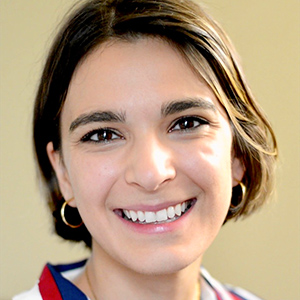 In this talk, I will discuss my work on (1) algorithms for finding organized crime groups in escort advertisements, and (2) visualization methods to intuitively present these possible cases to practitioners. I will also discuss our ongoing work on integrating other data sources, ethical considerations, and lessons learned while working on social good problems.
Catalina Vajiac is a Ph.D. student at Carnegie Mellon University in the Computer Science Department. Her research is focused on AI and visualization for social good, including finding human sex trafficking online and better prioritization of financial resources to those at risk of falling into homelessness. She received her B.S. in Computer Science from the University of Notre Dame in 2019 and her B.S. in Computing and Applied Mathematics from Saint Mary's College in 2018. She is funded by the NSF GRFP and has won a best paper award at ACM SIGCSE 2023, as well as a best paper honorable mention at IEEE VIS 2022.