seminar
Material Informed Robotics – How Sensing the Stuff Around Us Makes Robots Smarter
Nathaniel Hanson, ND '19, Massachusetts Institute of Technology
3:30 p.m., September 21, 2023 | 138 DeBartolo Hall
Traditional robot perception has focused on recognizing an object's semantic purpose as proxy to understanding ideal interaction strategies. However, semantic recognition does not include implicit understanding of the material composition of these objects or their properties (weight, friction, deformability). In this talk, I will introduce new sensory approaches for the identification of material makeup in objects and scenes composed of heterogenous materials via the incorporation of near infrared (NIR) spectroscopy into robotics.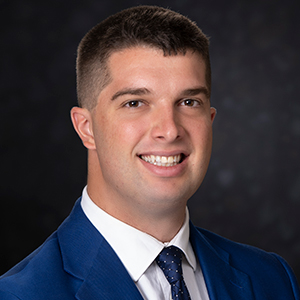 I will motivate spectroscopy applied to a number of domains including mobile robotics, in-hand grasping, and soft sensing. While existing classification methods make simplifying assumptions, such as a reduced number of classes, or clear segmentation boundaries – assumptions which do not translate well the complex, unstructured nature of the real world, our work offers promise for non-contact property understanding in a rich set of application domains such as food processing, assistive robotics, and autonomous driving.
Nathaniel Hanson is a member of the technical staff at the Massachusetts Institute of Technology (MIT), Lincoln Laboratory, in the Humanitarian Assistance and Disaster Relief Systems Group. His research interests lie at the intersection of remote sensing technologies and robotics. He is extensively involved in the design and implementation of Geographic Information System web platforms and decision-making tools for disaster mediation and pandemic response. He is also active in artificial intelligence and machine learning curriculum design efforts within the broader MIT community.
He is concurrently a Ph.D. candidate in the computer engineering program at Northeastern University's Institute for Experiential Robotics. His Ph.D. research focuses on bringing hyperspectral imaging and near-infrared spectroscopy into lighter and cheaper form factors for use in robotic applications as well as improving the processing methods to allow for property and material understanding. He is the recipient of an Outstanding Graduate Student distinction and was selected as a member of the Huntington 100 for mentorship of undergraduate researchers.
He is a proud alumnus of the University of Notre Dame ('19) and holds a bachelor's degree in computer engineering and a master's in computer science from Boston University.