seminar
Network Medicine: COVID-19 Treatment, Disease Module Completeness and Other Tales
Dr. Deisy Gysi, Northeastern University
3:30 p.m., December 8, 2022 | 140 DeBartolo Hall
The COVID-19 pandemic has highlighted the importance of prioritizing approved drugs to treat severe acute respiratory syndrome coronavirus (SARS-CoV-2) infections. Therefore, we have deployed algorithms relying on artificial intelligence, network diffusion, and network proximity to rank 6,340 drugs for their expected efficacy against SARS-CoV-2. We evaluate the performance of the methods by experimentally validating 918 drugs, and re-screening the top ones in different cells lines, identifying six drugs that reduced viral infection, four of which could be repurposed to treat COVID-19. In addition, we have experimentally screened 6,710 drugs for their potential to treat the disease, finding that, drugs strongly active against the virus targeted proteins closer to the disease module. I'll also discuss the incompleteness of Protein-Protein Interactions, the role of non-coding RNAs in the underlying network and in disease module detection, disease-disease comorbidity, and the future of precision medicine.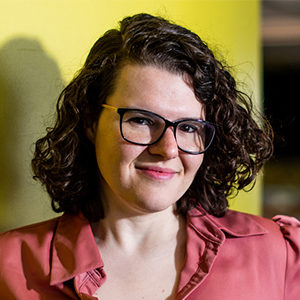 Dr. Deisy Gysi is an Associate Research Scientist at the BarabasiLab at the Network Science Institute (Northeastern University) and a Research Trainee at Channing Division of Network Medicine (Harvard Medical School / Brigham and Women's Hospital). She combines her experience to develop methods for improving Network Medicine, focusing on Personalized Medicine. She has a double degree in Biotechnology and Statistics, and a Ph.D. in Computer Science.
Her research focuses on biomarker discovery for complex diseases related to auto-immune response (i.e., as rheumatoid arthritis and inflammatory bowel disease), mental disorders (such as autism spectrum disorders, bipolar, schizophrenia, PTSD, etc.) and senior disorders (Alzheimer and Parkinson), and the role of non-coding RNAs in disease development. She is also interested in drug repurposing and method development for personalized medicine for those diseases, mostly using a combination of multi-omic, machine learning and network analysis approaches.